Easter is my favourite holiday.

Скачать:
Предварительный просмотр:
     Easter is the oldest and the main Christian holiday. It is set in honour of the Jesus Christ`s resurrection. Easter comes in spring .It`s a religious celebration and it lasts for a week. People start preparing for Easter with the Lent which lasts 49 days - in Russia and 40 days in England. The most important symbols are eggs. In Russia there was a custom of a general kissing. After a greeting "The Christ revive" – "Truly revive" people kissed three times and presented eggs to each other. It is a distinctive feature of the Russian Easter. Of course, the main decoration of a table is «paska»-Easter bread. As a rule, a lot of relatives and friends are gathered around the Easter table.
 Easter has always been my favorite holiday. I love everything about Easter. I love candy in the shape of  bunnies, eggs and chicks. I love the colorful baskets. I love dying and decorating eggs in a rainbow of color, hiding and hunting for the eggs after they are decorated. I love seeing everyone all dressed up in various pastel hues.
 I think one of the other reasons that Easter has always been my favorite holiday is the season. I love Spring, the smell of the air and the feel of the breeze.
It truly is a special holiday for me and my family!
Прекрасная химия
Сказочные цветы за 15 минут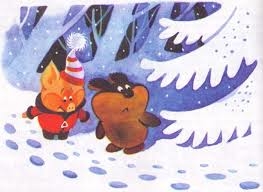 ГЛАВА ТРЕТЬЯ, в которой Пух и Пятачок отправились на охоту и чуть-чуть не поймали Буку
Свадьба в Малиновке
Басня "Две подруги"