Презентация "Halloween"

Презентация выполнена в программе Power Point
Скачать:
Предварительный просмотр:
Чтобы пользоваться предварительным просмотром презентаций создайте себе аккаунт (учетную запись) Google и войдите в него:
https://accounts.google.com
Подписи к слайдам:
Слайд 1
Halloween Some information about Halloween Mady by Kate Vorobiova, 10 th Form
Слайд 2
Halloween Halloween is a festival that takes place on October 31 It is not a public holiday This day was originally called «All Hallow`s Day» The name was later shortened to Halloween
Слайд 3
Halloween According to old beliefes Halloween is a time, when the veil between the living and the dead is partially lifted, and witches, ghosts and other supernatural beings are about
Слайд 4
Halloween Children celebrate Halloween in unusual costumes and masks It is a festival of merrymaking, supertitious spells, fortunetelling, traditional games and pranks Halloween is a time for fun)
Слайд 5
Halloween Many Halloween customs are based on beliefes of the ancient Celts, who lived more than 2,000 years ago in what is now Great Britain, Ireland, and Nothern France Halloween customs today follow many of the ancient traditions, though their significance has long since disappeared
Слайд 6
Many fears and supersitions grew up about this day When Halloween night fell, people in some places dressed up and tried to resemble the souls of the dead. They carried food to the edge of town or village and left it for the spirits
Слайд 7
Jack-o`-lantern A favourite Halloween custom is to make a jack-`o-lantern. Children take out the middle of the pumpkin, cut holes for the eyes, nose and mouth in its side and, finally, they put a candle inside the pumpkin to scare their friends The candle burning inside makes the orange face visible from far away on a dark night-and the pulp makes a delicious pumpkin-pie
Слайд 8
Trick-or-treating Halloween is sometimes called Beggars`Night or Trick-or-Treat night. They dress up as ghosts and witches and go into the streets to beg.They hold bags open to catch the candy, fruit, or coins that their neighbours drop in. Children usually get the treat, so they do not often have to play mischievous tricks.
Слайд 9
Halloween pranks Not most people believe in evil spirits. They know that evil spirits do not break steps, spill garbage or pull down fences. If property is damaged, they blamed bad boys and girls Perhaps the most common trick is soaping house and car windows
Слайд 10
The end
Учимся ткать миленький коврик
Ломтик арбуза. Рисуем акварелью
Ночная стрельба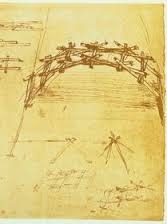 Мост Леонардо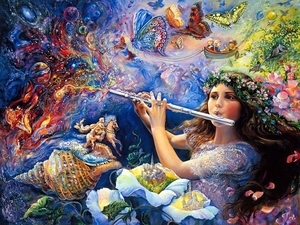 Что такое музыка?