My favourite animal (Мое любимое животное). Презентация

Скачать:
Предварительный просмотр:
Чтобы пользоваться предварительным просмотром презентаций создайте себе аккаунт (учетную запись) Google и войдите в него:
https://accounts.google.com
Подписи к слайдам:
Слайд 1
Presentation « My favo u rite animal »
Слайд 2
Panda « bamboo bear »
Слайд 3
Panda, or bamboo bear- mammal family Bear with a distinctive black and white coloring of wool, which has some of the attributes of raccoons. Giant pandas live in the mountainous regions of central China: Sichuan and Tibet. Since the second half of the XX century, the panda has become something of a national emblem of China.
Слайд 4
way of life Panda s are vegetarian. They eat generally young sprouts of a bamboo, from time to time including in a diet other plants, for example irises and a saffron, and even small mammals like rodents. Usually the animal eats sitting position of 10-12 h per day. It holds bamboo stalks in the thick pads and bites. For this purpose "the sixth finger" i s useful for it : one bone was extended and works as a thumb at our hand. Thanks to it the finger can hold even the thinnest stalks of a bamboo. They l ive highly in the mountain woods on cool slopes, because this is the best shelter for the birth of children in bamboo thickets . Pandas couple in the spring. Pregnancy lasts about 5 months, and they can have up to three cubs, but only one usually survives .
Слайд 5
Life expectancy of pandas reaches 14 years. Young pandas are very playful. They are good-natured, they spend a lot of time in movement . They c an stand on the head and hold a trunk head over heels, somersault through the head.
Слайд 7
Small legend about the Big Panda There is one Tibet legend about panda s . Once the girl meet a polar bear cub in the wood . They made friends and often played together. One day the bear was attacked by a snow leopard. The girl rushed to help the friend and she was lost. All pandas came to her funeral in black boots and black gloves. Crying , they rubbed their eye s by pads, clutched at the head. Therefore ears at pandas were painted in black color, and under eyes there were black circles.
Слайд 8
The panda is an endangered species. Scientists assume that in the world there were about 1600 individuals. The big panda is a symbol of the World fund of the wild nature (WWF). Scientists try to rescue this black-and-white bear cub, and they disappear because of bad ecology and extinction of bamboo groves.
Слайд 9
interesting facts Pandas are included in the Guinness Book of Records as most attractive of rare animals . Genomes of the person and panda coincide for 68 % . Every day the panda is occupied more than 12 hours with food . The panda has an unusual paw: besides usual 5 fingers it has the peculiar 6th "finger"
Слайд 13
Presentation performed: Moiseeva Regina, 10th grade student Thanks for watching
Нас с братом в деревню отправили к деду...
Цветение вишни в лунную ночь
В.А. Сухомлинский. Для чего говорят «спасибо»?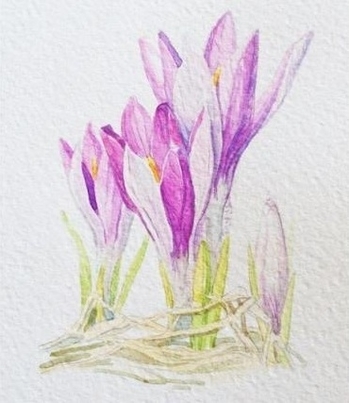 Рисуем крокусы акварелью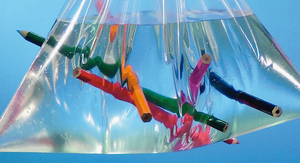 Карандаши в пакете