Бейсболл
Хижняк Олег, 2012год, 8 "В" класс, "Бейсболл"
Скачать:
Предварительный просмотр:
Чтобы пользоваться предварительным просмотром презентаций создайте себе аккаунт (учетную запись) Google и войдите в него:
https://accounts.google.com
Подписи к слайдам:
Слайд 1
Baseball Baseball is a bat-and-b all sport played between two teams of nine players each. The aim is to score run s by hitting a thrown ball with a bat and touching a series of four bases arranged at the c orners of a ninety-foot diamond. Players on the batting team take turns hitting agai nst the pitcher of the fielding team, which tries to stop them from scoring runs by gettin g hitters out in any of several ways. A player on the batting team can stop at any of the bases and later advance via a teammate's hit or other means. The teams switch betw een batting and fielding whenever the fielding team records three outs. One turn at ba t for each team constitutes an inning, and nine innings make up a professional game. The team with the most runs at the end of the game wins. Khizhnyak Oleg 8"V" 2012
Слайд 2
Baseball Evolving from older b at-and-ball games, an early form of baseball was being played in England by the mid-eighteenth cen tury. This game was brought by immigrants to North America, where the modern version develope d. By the late nineteenth century, baseball was widely recognized as the national sport of the Uni ted States. Baseball is now popular in North America, parts of Central and South America and the Caribbean, and parts of East Asia. In North America , professional Major League Baseball (MLB) teams are divided into the National League (NL) and Ame rican League (AL), each with three divisions: East, West, and Central. The major league champion is determined by playoffs that culminate in the World Series. Five teams make the playoffs from each leag ue: the three regular season division winners, plus two wild card teams. Baseball is the leading team spor t in both Japan and Cuba, and the top level of play is similarly split between two leagues: Japan's Central League and Pacific League; Cuba's West League and East League. In the National and Centra l leagues, the pitcher is required to bat, per the traditional rules. In the American, Pacific, and both C uban leagues, there is a tenth player, a designated hitter, who bats for the pitcher. Each top-level team has a farm system of one or more minor league teams
Слайд 3
History The evolution of baseball from older bat-and-ball games is difficult to trace with precision. A French manuscript from 1344 contains an illustration of clerics playing a game, possibly la soule , with similarities to baseball. Other old French games such as thèque , la balle au bâton , and la balle empoisonnée also appear to be related. Consensus once held that today's baseball is a North American development from the older game rounders , popular in Great Britain and Ireland. Baseball Before We Knew It: A Search for the Roots of the Game (2005), by David Block, suggests that the game originated in England; recently uncovered historical evidence supports this position. Block argues that rounders and early baseball were actually regional variants of each other, and that the game's most direct antecedents are the English games of stoolball and "tut-ball". It is believed that cricket also descended from such games, though evidence uncovered in early 2009 suggests that the sport may have been imported to England from Flanders. The earliest known reference to baseball is in a 1744 British publication, A Little Pretty Pocket-Book , by John Newbery. It contains a rhymed description of "base-ball" and a woodcut that shows a field set-up somewhat similar to the modern game—though in a triangular rather than diamond configuration, and with posts instead of ground-level bases. William Bray, an English lawyer, recorded a game of baseball on Easter Monday 1755 in Guildford,Surrey . This early form of the game was apparently brought to North America by English immigrants. Rounders was also brought to the continent by both British and Irish immigrants. The first known American reference to baseball appears in a 1791 Pittsfield, Massachusetts. By 1796, a version of the game was well-known enough to earn a mention in a German scholar's book on popular pastimes.
Слайд 4
History By the early 1830s, there were reports of a variety of bat-and-ball games recognizable as early forms of baseball being played around North America. These games were often referred to locally as "town ball", though other names such as "round-ball" and "base-ball" were also used. There were many similarities to modern baseball, and some crucial differences: five bases (or byes ); first bye just 18 feet (5.5 m) from the home bye; batter out if a hit ball was caught after the first bounce. The once widely accepted story that Abner Doubleday invented baseball in Cooperstown, New York, in 1839 has been conclusively debunked by sports historians. In 1845, Alexander Cartwright, a member of New York City's Knickerbockers club, led the codification of the so-called Knickerbocker Rules. The practice, common to bat-and-ball games of the day, of "soaking" or "plugging" was barred. The rules thus facilitated the use of a smaller, harder ball than had been common. Several other rules also brought the Knickerbockers' game close to the modern one, though a ball caught on the first bounce was, again, an out and only underhand pitching was allowed. While there are reports that the New York Knickerbockers played games in 1845, the contest now recognized as the first officially recorded baseball game in U.S. history took place on June 19, 1846, in Hoboken, New Jersey: the "New York Nine" defeated the Knickerbockers, 23–1, in four innings. With the Knickerbocker code as the basis, the rules of modern baseball continued to evolve over the next half-century.
Слайд 5
Woodland Hills Woodland Hills is a district in the city of Los Angeles, California. Woodland Hills is located in the southwestern area of the San Fernando Valley, east of Calabasas and west of Tarzana, with Warner Center in its northern section. On the north, Woodland Hills is bordered by West Hills, Canoga Park, and Winnetka, and on the south by Topanga and Malibu, California. Some neighborhoods are in the foothills of the Santa Monica Mountains. Running east-west through the community is U.S. Route 101 (Ventura Freeway) and Ventura Boulevard, whose western terminus is at Valley Circle Boulevard in Woodland Hills.
Слайд 6
Giuseppe Paulo "Joe" DiMaggio Giuseppe Paulo "Joe" DiMaggio ; November 25, 1914 – March 8, 1999), nicknamed " Joltin ' Joe" and "The Yankee Clipper," was an American Major League Baseball center fielder who played his entire 13-year career for the New York Yankees. He is perhaps best known for his 56-game hitting streak (May 15–July 16, 1941), a record that still stands. DiMaggio was elected into the Baseball Hall of Fame in 1955. DiMaggio was a three-time MVP winner and 13-time All-Star (the only player to be selected for the All-Star Game in every season he played). In his thirteen year career the Yankees won ten American League pennants and nine World Series championships. At the time of his retirement, he had the fifth-most career home runs (361) and sixth-highest slugging percentage (.579) in history. A 1969 poll conducted to coincide with the centennial of professional baseball voted him the sport's greatest living player. Joe DiMaggio was the middle of three brothers who each became major league center fielders, the others being Vince and Dom.
Слайд 7
The end
Сочинение
Новогодняя задача на смекалку. Что подарил Дед Мороз?
Воздух - музыкант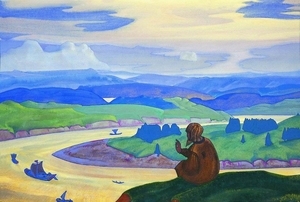 О путнике
Учимся ткать миленький коврик