Презентация "Education in Great Britain"

Автор:
Недорубан Татьяна, Палий Иоланта
Презентация "Education in Great Britain"
Скачать:
Предварительный просмотр:
Чтобы пользоваться предварительным просмотром презентаций создайте себе аккаунт (учетную запись) Google и войдите в него:
https://accounts.google.com
Подписи к слайдам:
Слайд 1
Education in Great Britain Nedoruban Tanya , Paliy Ita
Слайд 2
Educational system in Britain has strict quality standards. It is compulsory for all children aged 5 to 16 to study. British education is divided into two segments: state schools, which are free of charge, and private schools, which are paid for. Over 90% of children attend state public schools. Also Great Britain has two different systems of education: one is used in England, Wales and Northern Ireland and the other is used in Scotland.
Слайд 3
The most popular schools in Britain are Boarding Schools. These are institutions where kids not only study, but live.
Слайд 4
In Britain, as in many other countries, there is a pre-school education, i.e. there are nursery schools for children from 2 to 7. After the nursery school, kids attend Junior Schools till they are 13 .
Слайд 5
During these years children have to pass an obligatory exam, called SAT (Standard Assessment Tests) twice. In case, they pass it successfully, they can easily transfer to the next step, which is called Senior School.
Слайд 6
This school is for children aged 13 to 18, and it prepares its pupils for the special exam called GCSE (General Certificate of Secondary Education). It is also the time for future profession choice.
Слайд 7
The main subjects at British schools are English, Mathematics, Geography, Art, Science, History, Physical Education, Information Technology, Music, Religious education and others .
Слайд 8
According to the classification of schools by gender, education in Britain can be divided into three types of institutions: mixed schools, schools for girls and schools for boys.
Слайд 9
Higher education in Great Britain is quite expensive, especially for foreign students . However, there are sometimes tuition grants for talented students.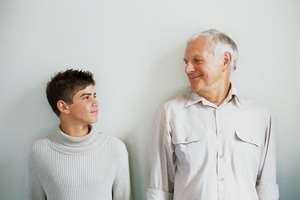 Спасибо тебе, дедушка!
Шум и человек
Цветущая сакура
Лесная сказка о том, как согреться холодной осенью
Рисуем тыкву